The Vocational Nursing Program prepares students to successfully attain training and qualifications to become a Licensed Vocational Nurse. The vocational nursing program is approved by the Board of Vocational Nursing and Psychiatric Technicians (BVNPT). It is a 12-month program which offers theory and practical hands-on training. Upon completion of the program you will be eligible to take the state examination with the Board of Vocational Nursing (NCLEX-PN)
Are you a problem solver?
Do you like science?
Do you enjoy helping people?
Are you "hands on"?
This career may be for you!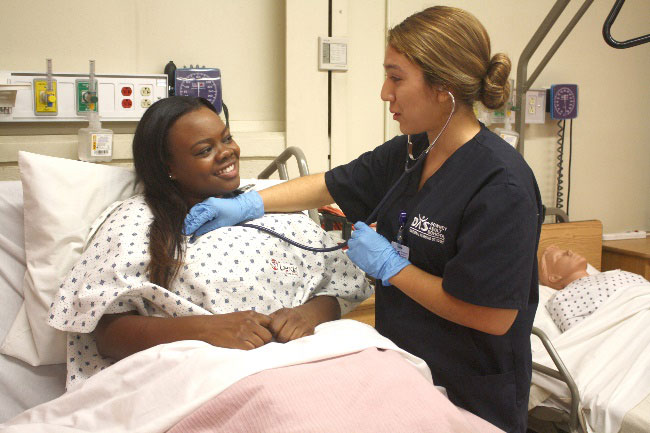 Fundamental of Nursing
Medical/Surgical Nursing
Gynecology/OB Nursing
Pediatric Nursing
Pharmacology
Psychology/Psychiatric Nursing
Geriatric Nursing
Rehabilitation Nursing
Theory Hours 576 and Clinical Hours 960
Total Hours 1536
Day Full Time Classes Available.
Board of Vocational Nursing and Psychiatric Technician (BVNPT) State Exam NCLEX-PN
Cost for Program: $16,999
The above cost is an estimate. Your costs may vary. Additional fees may apply. Program cost includes books, and administration fees. Some fees are paid directly to an outside vendor.
Possible Job Opportunities
LVN K-12 School Setting
LVN Nursing Home
Sub-Acute Care Facility
LVN SNF
LVN Home Health
LVN Specialty Clinics
LVN Correctional Facilities
LVN Hospice
Source: www.salary.com, November 23, 2022. Above wage is based on the Los Angeles, CA Area. Wages and actual employment are not guaranteed. Wages do not reflect self-employment.
Student Training Estimates (STE)
How Do I Enroll in the Vocational Nursing Program?
This 12-month Vocational Nursing Program offers both theory and practical hands-on training necessary to become a Licensed Vocational Nurse.
Steps to Admission:
Attend Entrance Exam Prep Course (Optional)
Attend and complete the Orientation and Entrance Exam (Required). The registration fee is non-refundable.  
Based on test scores, the top 60 candidates will be invited to enroll in the Pre-VN Course, which is a required course.
After successfully completing the Pre-VN Course and interviews, 30 students will be invited to be admitted into the program which begins in May 2024.